Kim Hester-Williams
She/ Her/ Hers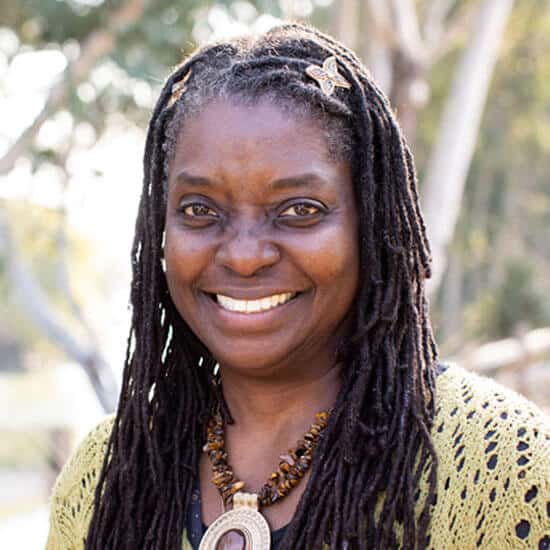 English & American Multicultural Studies
Sonoma State University
Dr. Kim Hester Williams is a Professor of English and American Multicultural Studies (AMCS) at Sonoma State University. She holds a bachelor of arts in English literature from the University of California, Santa Cruz, and a masters and Ph.D. in Literature from the University of California, San Diego. Dr. Hester Williams is currently serving as Chair of AMCS in addition to teaching nineteenth-century American literature, African American literature and culture, and as affiliate faculty in the departments of Film Studies and Women and Gender Studies. Her research and writing center on racial and gender representation in literature, particularly Black representation, and contemporary visual representations of race and gender in film, television, and new media. Dr. Hester Williams has done work on race and ecology broadly and, more directly, ecocriticism applied to the speculative imagination in literature and film. She is co-editor, with LeiLani Nishime, of Racial Ecologies—a book collection of interdisciplinary essays on race and environment, published by the University of Washington Press in 2018.
Dr. Hester Williams has served on numerous university committees, including presently and proudly, on the Sonoma State President's Advisory Council for Diversity, Equity, and Inclusion. She has worked throughout her career to support underrepresented students, for example, as a McNair Scholars mentor and advisor to both individual students as well as diverse campus organizations. Dr. Hester Williams also enjoys lecturing for the wider community and delivering presentations to junior college and community audiences, most recently, addressing the topic of Black Suffragists for the centennial anniversary of women's suffrage at the Petaluma History Museum.
Additionally, Dr. Hester Williams is actively involved in civic engagement. She is a 2016 graduate of the American Canyon Citizens Academy and since, has participated in local governance and community organizations, most recently as an appointed member on a number of local city and countywide committees including, the Napa Valley Unified School District (NVUSD) Measure H Bond Oversight Committee for which she served as Vice Chair from 2018-2019. Dr. Hester Williams has been a member of the American Canyon City Open Space Committee since 2016 and also currently serves on the Napa Valley Youth Orchestra Executive Board. As an active member of the American Canyon Soroptimist Association, Dr. Hester Williams takes great pride in merging her teaching, scholarship, and research about racial and gender equality with her commitment to community service, social justice, and enacting an equitable, sustainable society—in both personal and communal practice.